At Home With Herbs
Introduction
What this course is all about – empowering, improving health, creativity, getting to know the plants. An introduction to the various forms and preparations we will make over the 6 modules. An explanation of the herb monographs. Labelling samples and preparations with safety considerations and dosages and basic kitchen cleanliness.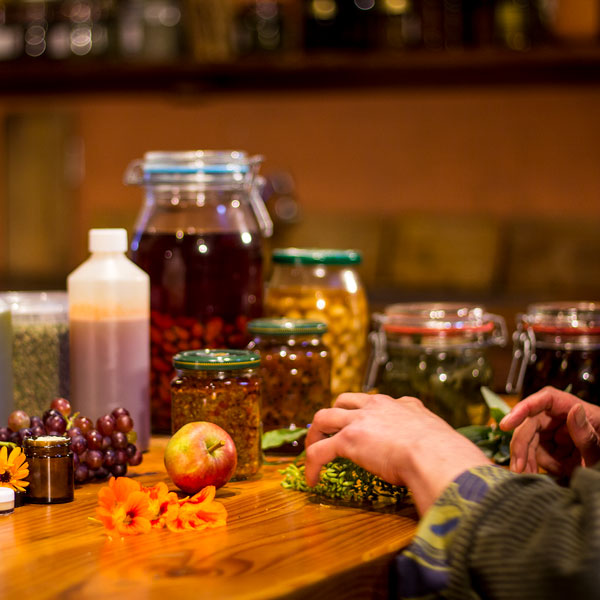 Module 01: Introduction to the At Home with Herbs course
One of the simplest and oldest ways of using herbs is to eat them as food. Hippocrates said let your food be your medicine and your medicine be your food; well, we can really do this with herbs. Dieting on herbs is a most excellent form of preventative medicine, a way of connecting properly with our environment, making ourselves more aligned with nature, part of nature. Herbs are full of all sorts of nutriments which are anti-oxidant, anti-inflammatory, immune system and tissue building, cleansing and tonic to the blood, clearing for the liver and much more besides.
Studies are emerging that show that forage foods, and including good quantities of herbs and spices in the diet are preventative and curative for most of the ills of Western culture such as diabetes, high blood pressure, high cholesterol, and chronic inflammatory disease in general. By including herbs and wild foods in our diet we can make sure that our internal environment is healthy and aligned with our external environment, thus ensuring that our genes express themselves healthily. Kids love the frisson of preparing food from 'weeds' and wild plants.
Many of our most valuable native and naturalised plants can be included in the diet easily and are much easier to grow that the cultivars that we tend to eat; they are fresher, in season, totally local and really flavoursome. For inspiration explore the recipes in the plant profiles.
Herbal juices can be purchased, or prepared with a suitable juicer at home. You need to use a wheat grass juicer, rather than the juicers sold for making fruit and vegetable juices. They need to be prepared fresh, or frozen if stored for more than 24 hours. This can be done in ice cube trays. The standard dose for juices is 5-10 ml 2-3 times per day.
Powdered herbs are an alternative to the liquid forms listed above for internal use. Once a herb is powdered it is more susceptible to oxidation due to the fact that a larger surface area is exposed to the air. This means that powders need to be kept in airtight containers and used before they lose their potency. Powders are a great way to use herbs for adding into food; they can be sprinkled on soups or other foods, added to smoothies, or used to prepare infusions. They can also be used to pack capsules. Capsule fillers are available from various sources online. Capsules suitable for vegans and vegetarians are also available from several suppliers. The standard dose is 2-3 00 capsules twice a day - these contain about 250 mg of herb. The equivalent amount of powdered herb could also be sprinkled on food.
Powders are also used in some external preparations, such as poultices, ointments and creams; these forms of preparations are described below.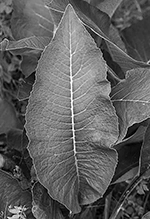 Baths
Bathing with herbs has a long tradition. In Ireland, there are still several places that offer seaweed baths for health. Herbal baths can be used for many purposes. Foot baths are really good for detoxifying the system and stimulating the circulation. Hand baths can be valuable for arthritic hands. Full body baths can be great for delivering a good dose of herbs transdermally (through the skin). Our skin is permeable to many of the plant's constituents and they get straight into the general circulation.
Sitz baths are used to treat the bowel, kidneys, reproductive organs and congestion in he abdomen and pelvis and problems with the hips. For a sitz bath one needs two containers that are large enough to sit in; one contains hot water with the herbs or oils added, the other contains cool water. One sits first in the hot water and herbs with the feet in the cool water so that the circulation and the medicine are drawn into the lower trunk for about 10 minutes.
Then one sits in the cool water with the feet in the hot water for 10 minutes to draw the circulation to the extremities. This can be repeated several times. Baths can be prepared with infusions, decoctions or essential oils and salt or Epsom salts may also be used.
There are many other forms in which herbs can be used; these ones are easy enough to prepare and fun to make at home. The books listed below give other formulae and recipes and there are some excellent recipes available online.
Dosages
A note on internal doses; the doses above relate to a normal, 'healthy' adult. In pregnancy and during breastfeeding these should be reduced to a half or third, and certain herbs should be avoided altogether (see guidance under each herb description). For elderly and frail people doses should also be reduced, seek the advice of a professional if unsure about what dose is suitable; any real herbalist will help out with this kind of advice.
For children the general rule of thumb is; 6-12 months one tenth of adult dose, 1-6 years one third adult dose, 7-12 years half the adult dose. Again, this may vary with the weight and development of the child and there are herbs that should be avoided with children. Another way of calculating the dose for children is to divide their age at their next birthday by 24 and multiply the adult dose by this number; if the number gives a result smaller than 1 ml then remember that there are 20 drops (approximately, depending on the dropper aperture) in 1 ml and so the dose can be calculated as a number of drops.
There are also herbs that should be avoided during pregnancy, with certain medical conditions and in conjunction with certain pharmaceutical preparations.
IF IN DOUBT SEEK ADVICE.
A lot of this is common sense, however, here are some general guidelines: For older patients, the dose may need to be reduced by a third or a half. However, if you have a robust, active 70-year-old then they may require the full dose for a healthy adult.
Inhalations/ facial steaming
The addition of herbs or essential oils to a bowl of boiling water for steaming or inhaling can be a great way of clearing the skin or the respiratory system. Place a towel over the head and breath the steam as deeply as is comfortable for about 10 minutes.
DOSES
The formulae for calculating the dose for a child are many and various but this is one of the simplest methods:
AGE (up to)
Adult
12 years old 8 years old 4 years old 2 years old 1 year old
PROPORTION OF ADULT DOSE
5ml 1/2 2/5 1/4 1/8 1/16
EXAMPLE
2.5 ml
2 ml (40 gtt)
1.25 ml (25 gtt) 0.625 ml (12-13 gtt) 0.3125 ml (6-7 gtt)
A Note on Hygiene:
Before making any of these preparations you need to prepare your equipment and ensure that it is spotlessly clean. Use stainless steel, or glass containers, bowls and pans. Use stainless steel implements, for stirring, mixing, chopping ingredients and so on.
Avoid using any dirty jars, or implements, tie back long hair and keep fingers out of all mixtures to prevent contamination. Any preparations that show signs of contamination (mould growing or smelling 'off') should be discarded immediately. Occasionally, water will 'bleed' out of the cream. This does not mean that they have gone off, but that some separation has occurred. They are still ok to use.
A note on the leftover herbs
Once herbs have been used or pressed off then add them to the compost bin where they add valuable food and fibre for the soil.
At Home with Herbs - Module 00