Another great way to include nettles in your diet. Nettles are one of the best sources of leaf protein as well as many minerals and other nutrients and this is a wonderful winter comfort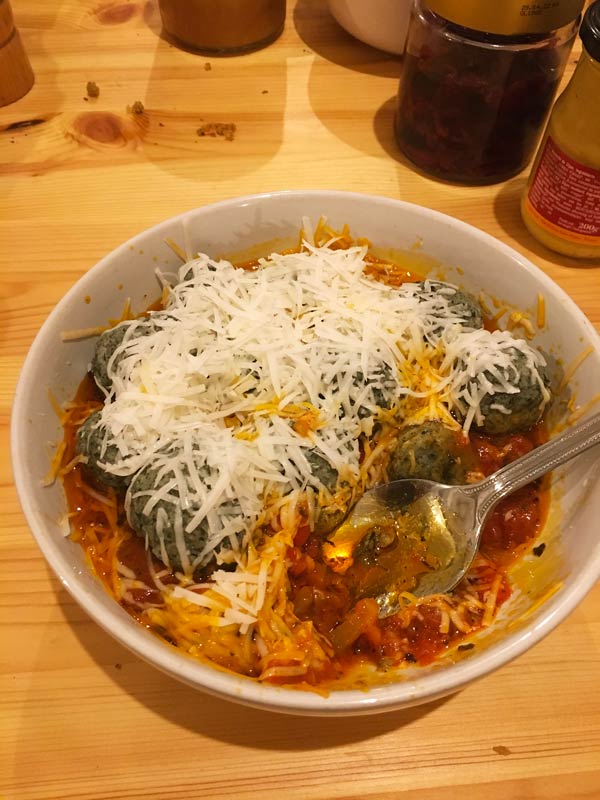 The Gnocchi ...
Ingredients ...
500g potatoes
100g white flour, wheat or gluten-free
1/2 cup dried nettles grind in a coffee grinder or similar
1 egg (optional)
Salt to taste
Preparing ...
Steam potatoes until soft and then put through a potato ricer or mash
Beat the egg.
Mix flour and powdered nettles and egg through potatoes to make a dough.
Divide into 24 portions and roll into balls.
Cooking ...
Bring a large pan of water to the boil. Drop gnocchi into the boiling water and simmer until they rise to the surface. Alternatively, they can be fried in olive oil or butter- do not use coconut oil as that would taste very wrong.
Serving ...

Serve with tomato sauce ( see below) or with butter/olive oil and pecorino or parmesan cheese (optional).
Photography ...
The pictures posted below were taken with an iPhone 6s, which is getting kind of dated now.
They will open a little slideshow if you click on one of them and a further click on the picture will move you to the next picture and click out of the picture or on the X at the top right of the picture will close it again. There are controls at the bottom of the picture too, and if you scroll down you will see a slideshow button too.
Tomato sauce ...
Ingredients ...
2 tbspn olive oil
one small onion finely chopped
1 small courgette finely chopped
1 red pepper finely chopped
1 stock cube
1 bay leaf
a small handful of fresh basil or oregano leaves finely chopped
10 olives
Small glass white wine or mead
Process ...
Sauté onion, courgette and pepper in olive oil until soft.
Add other ingredients and simmer until thickened.
Serving ...
Serve with pasta, rice or gnocchi
A small impromptu film below made with the iPhone 6s along with the photos above. To make it full-screen on your phone press the little expand button on the bottom left-hand side of the video player.