The Regenerative Plant Medicine Gathering
Update 25th July 2019
Due to unforeseen circumstances, this event is being rescheduled to 2020 and it is being redesigned too, we will have details up soon.
After the lovely success of last year's gathering, we invite you to join us for the second weekend of reconnecting for a deepening of our community. We learned a lot last year and good results came into being. People shared, brainstormed, identified needs and solutions too and then went away invigorated and regenerated.
2020 dates to be decided ...
This is an invitation...
To make proposals for discussion circles in the programme and the themes of the discussions are as follows;
Fa

cilitation and Participation
Education, Intersectionality and Accessibility
Herb growing & harvesting/drying
Processing, Making and Demonstrations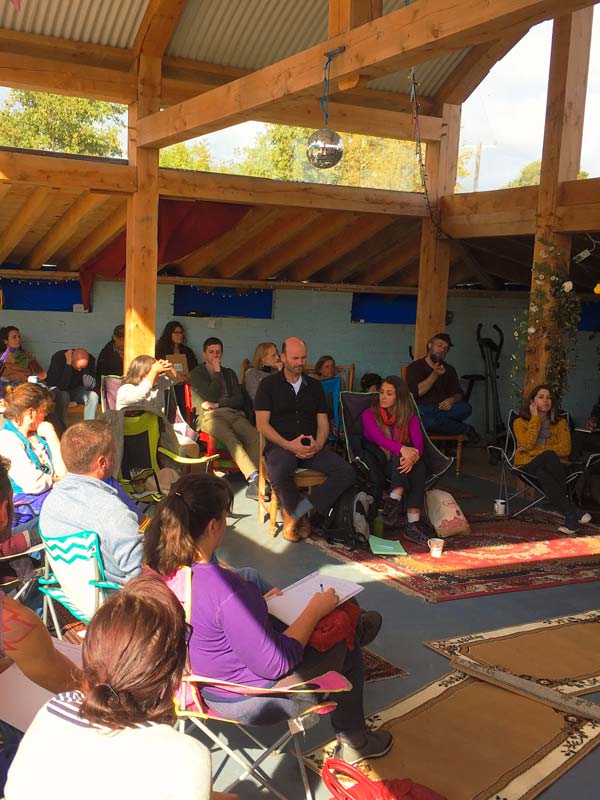 The Facilitation ...
Each session starts with a short introduction from the presenter/s who will have already published a session description online, and then it is opened to the circle for discussion. There will be a facilitation team of three assisting the presenters; a scribe writing live to the website and projected on the screen, an observer and a facilitator. We will break out to World Cafe style discussion groups if that is desired at the time.
Timing ...
Beginning late afternoon on Friday with dinner and informal evening around the fires
Saturday 9:00 start with an opening ceremony at 9:30 and 10:00 commencement.
Refreshments and Lunch included and closing circle 5:30 to 6:00 with dinner at 6:30.
Enjoy a social evening of chat and song around the camp and on Sunday morning partake in some practical activities up to and including lunch.
Activities ...
All inclusive participatory collaborative circle working, together, in harmony.
Be in a range of ecosystems with nature resonance meditations leading the focus groups.
Brainstorming and discussion interspersed with hands-on activities with experienced facilitators and guides.
Sunday - Herb Walk and Making stuff with chances for people to have a go at presenting/teaching making methods.
Venue ...
The location is the beautiful Inch Hideaway, which is an Eco-Sustainable Camping site situated walking distance from Inch Beach, Whitegate, Co. Cork, Ireland. A mix of Yurts, a Tiny House, and Camping options are available with local B&Bs too.
Booking ...
Booking is made with The Plant Medicine School and is not open yet, all of the details of the different options and pricing will be available in due course. Please telephone us to confirm the booking of your chosen options at 021 7334 762 - Mon-Fri 10:00-17:00
Options ...
The full weekend in comfortable yurt bed with all meals, or if camping in your own tent for. Both include Friday evening before dinner to Sunday after lunch or choose your options below. With local B&Bs too.
Saturday, for the day only, refreshments, lunch and dinner included.
Friday night
Camping and breakfast
Shared yurt, bed and breakfast
Dinner
Saturday night
Camping and breakfast
Shared yurt, bed and breakfast
Sunday
Lunch
2019 options and costs will be announced soon
Programme ...
Friday evening, arrive from 16:30, dinner from 18:30, a hot stew, an informal get together for the evening.
Saturday. 08:00 Breakfast. 09:00 - Introduction. 09:30 - 10:45 - Egalitarian facilitation and participation.
10:45 - 11:00 refreshments. 11:00 -12:45 - Education, Intersectionality and Accessibility
Lunch 12:45 - 13:30
13:30 - 14:30 - Planting Herbs in the Hideaway Garden 14:30 - 17:00 Herb growing & harvesting/drying
17:00 - 18:00 - Nature Resonance Medicine
Dinner 18:30
Saturday night - Fires, socialising, chat, music and song
Sunday morning - 08:00 Breakfast. 09:30 to 10:00 - Herb Walk. 10:00 to 12:45 - Processing, Making and Demonstration
12:45 - 13:30 Lunch.
Registration is not open yet...
Bed spaces are limited, local B&Bs, own tent camping and day tickets are also available.
Schedule of the weekend with detailed activities and all requirements will be emailed upon registration.
Event location:
Inch Hideway, Glanturkin, Whitegate, Cork, Ireland
Enquiries to alex@theplantmedicineschool.com
Tel: 021 733 4762