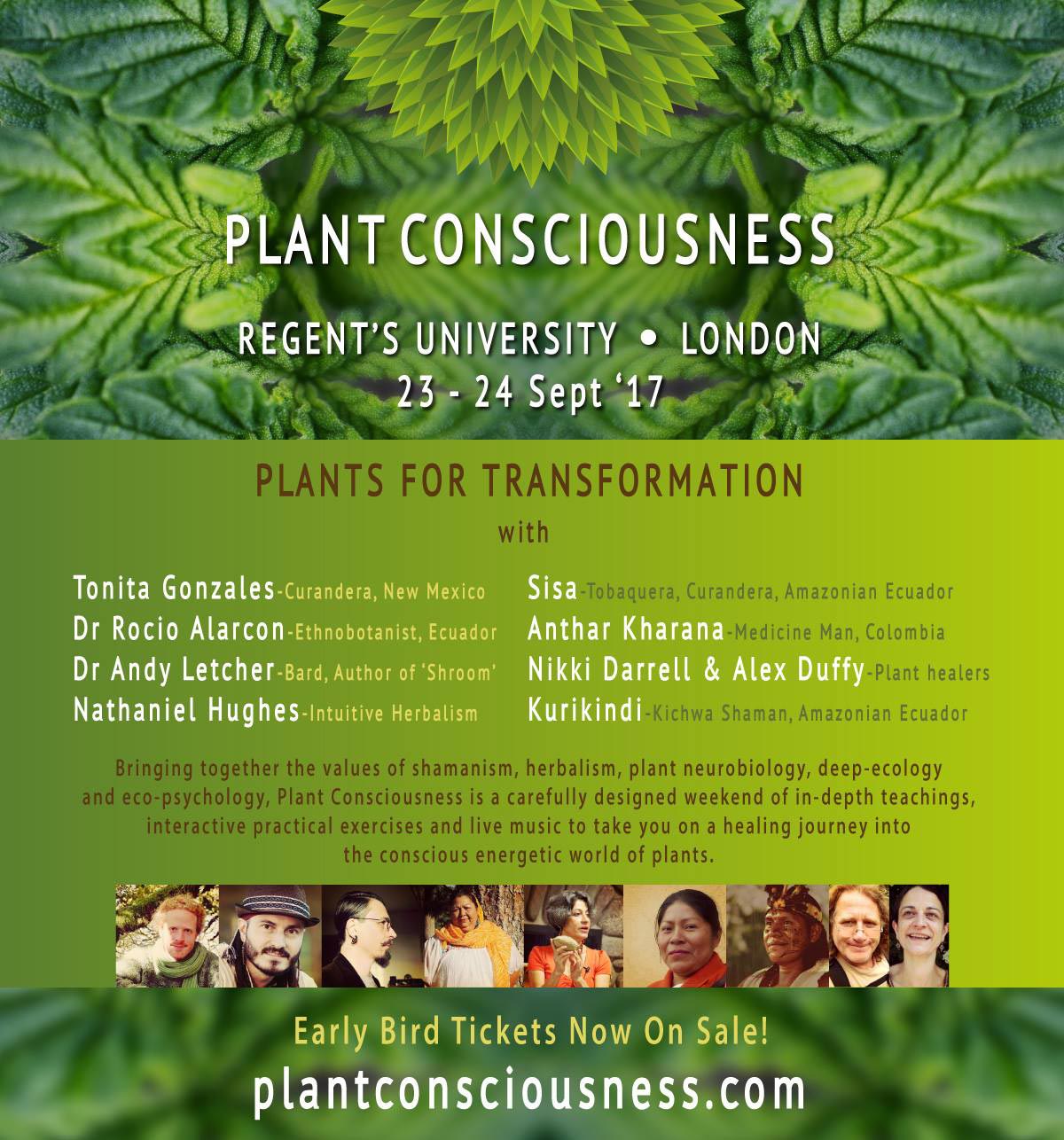 Plant Consciousness Conference
Our disconnect from the natural and primal worlds has led to the disastrous situation that we now find ourselves in on planet Earth, yet our deep feelings for nature form part of our spiritual longing. Plant Consciousness explores the higher intelligence of nature, how to connect and learn from it and why it is essential for the development of consciousness and the well-being of the planet that we do.
Sat 23rd and Sun 24th September 2017 - 09:00 to 17:00
Saturday 23rd Sept

9.00 - 9.30 Registration

Morning Session 1 Dr Andy Letcher
Morning Session 2 Nathanial Hughes
Afternoon Session 1 Nikki Darrell & Alex Duffy
Afternoon Session 2 Dr Rocio Alarcon


Sunday 24th Sept

9.00 - 9.30 Registration

Morning Session 1 Dr Rocio Alarcon
Morning Session 2 Tonita Gonzales
Afternoon Session 1 Anthar Kharana
Afternoon Session 2 Asuzhana
Afternoon Session 3 Kurikindi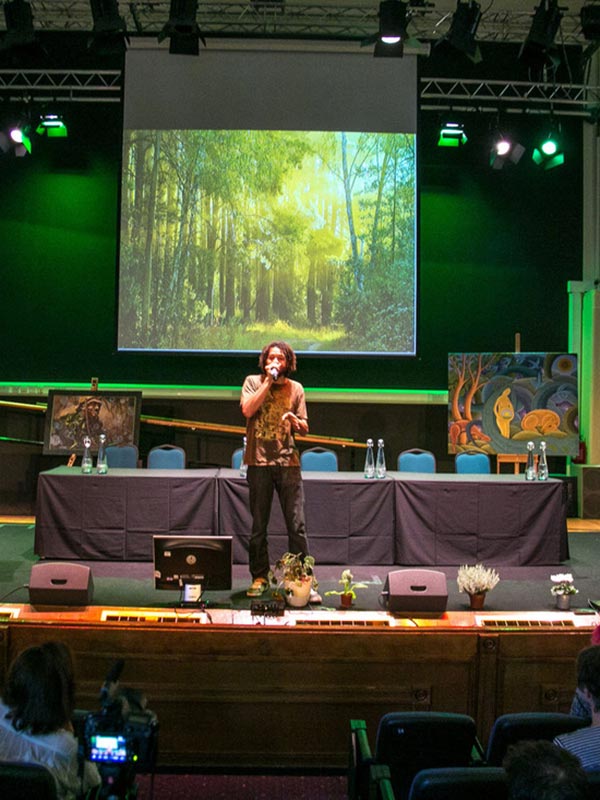 Many different cultures and traditions work with plants for psycho-spiritual transformation, they understand the need to heal our fragmented psyche, which holds us back from realising our potential and knowing our true holistic self.
Bridging two continents, Plant Consciousness 2017 will demonstrate how plants of the Americas and the British Isles have been co-creatively worked with over millennia for healing.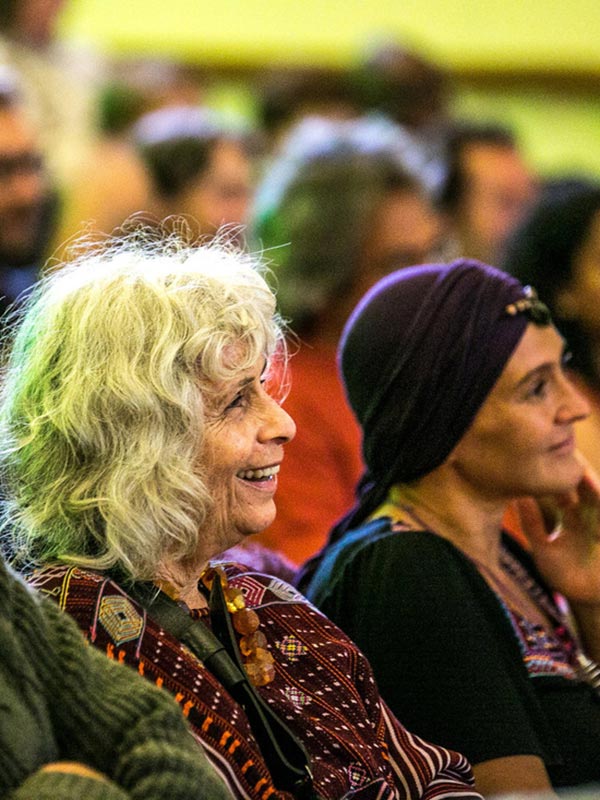 An eclectic mixture
of approaches
to the plant people
Bringing together the values of shamanism, herbalism, plant neurobiology, deep-ecology and eco-psychology, Plant Consciousness is a carefully designed weekend of in-depth teachings, interactive practical exercises and live music to take you on a magical journey into the conscious energetic world of plants.
This journey will be held in sacred space by us and the amazing healers and shamans that we are working with this year to help you discover a deeper understanding of plants and of your place in the biosphere of life on this planet.
Coming Home To Our Indigenous Place In Nature
In the West many feel disconnected from our Land and culture, so we borrow ceremony and ritual from other places to fill this void, and there is great value in learning from our neighbours who remember their ways. However, the land we are in and the plants and beings of this place hold profound teachings for humans who enter into harmonious resonance.
We will share stories of our own journey of becoming indigenous, walking the path of the Bean and the Fear Feasa, with the plant allies who work with us along the way, including some of the following: The mighty Oaks, who hold space for community ceremonies; the aromas of the Pines, who bring us to silent stillness, the daisies, who clear away the clouds of oppression, healing trauma, and we are innocent once more.
Enchanted our inner child leads us to Herb Robert, a wonderful teacher who while he does not suffer fools gladly is extremely loyal to the genuine seeker. He introduces us to Vervain the Sovereign One, who gazes impassively and directly into our very soul, she challenges us to move towards our authenticity, deepening our perception of the feminine flow. As we do this the healthy ego emerges into its proper place of service within the community of Nature.
About Nikki & Alex
Nikki works as a practitioner of herbal medicine, aromatherapy, aromatic medicine and incorporates Cranio Sacral therapy and Sacred plant medicine into her clinical work.
She attended the Sutton Bonnington campus of Nottingham University to study Horticulture and Plant Science (because she could not find anywhere to train as a herbalist!) and after graduating spent 5 years as a research scientist researching phytochemistry and plant tissue culture.
Alex has always had a deep interest and spent many years engaged in independent study and experimentation with esoteric, occult, the eight fold path of Yoga, and various initiatory systems and traditions over his life.
He completed a Vocational Fear Feasa Apprenticeship with Cáit Branigan, FOI. Bean Feasa.
This included extensive training with thorough self-work and healing in all respects over a decade.
Nikki Darrell and Alex Duffy
Images and text taken from the Plant Consciousness website linked here www.plantconsciousness.com
For further information please visit this site and enquire directly with the organisers.