The School moves to Wexford ...
Alex bought the land in 2014; a site with planning permission with adjoining sloping woodland down to a small hidden field, which we call Sanctuary, and a beautiful lane connecting it with another field, named Community.
The very visible community field has vibrant road frontage on two sides, stretching from Hollyfort bridge around Donnelly's corner and on towards Gorey which is where the entrance to the house is situated. This makes it ideal for the novel growing projects which we want to promote, just as the sanctuary field is ideal for a collection of indigenous plants and a beautiful setting for deeper nature connection.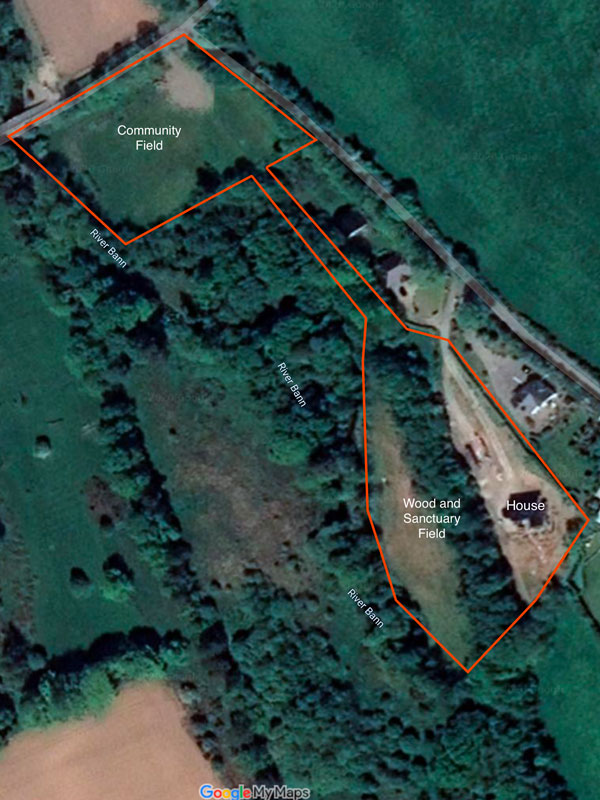 A School ...
From day one the place we now call Grá Nádúr, (Natures Love) declared itself a perfect setting for a school dedicated to the ways of Nature. The Plant Medicine School was born in Cork as a partnership, between Nikki and Alex, with the intention for it to move to Wexford and so it has. What a strange year it has been and in March we were catapulted into a much faster move than anticipated and moved into a half-built house.
Freedom Gardening ...
The plans for the Community Field include the establishment of what we call 'Freedom Gardening'; shaping and planting up areas to develop into semi-wild gardens where the indigenous gardener is a welcome part of the biodiversity.
Here we will learn together how to nurture colonies of plants to enable them to flourish in their natural way. We realise that many people are very interested in foraging and we wish to take that several steps further. Learning to 'hear' the plant beings and their particular ecological needs will encourage wild gardening, nurturing and gratitude for the generosity of nature rather than just foraging from ecosystems.
Photography ...
The pictures posted below were taken over the last 6 years.
They will open a little slideshow if you click on one of them and a further click on the picture will move you to the next picture and click out of the picture or on the X at the top right of the picture will close it again. There are controls at the bottom of the picture too, and if you scroll down you will see a slideshow button too.
Gardening ...
In March 2020, the work on the garden started in earnest and Nikki and her helpers worked hard with the plants to have it booming by the summer and now the much-needed polytunnels have arrived just days before the frosts. We are in this way becoming self-sufficient in locally grown herbs for our school, using them to make the health-promoting foods and medicinal preparations.
Passion ...
We are passionate about reclaiming the knowledge of the healing properties of our local and indigenous plants as a core tenet of our teaching. The students of our various courses will enjoy the full spectrum of nature connection, gardening, harvesting, preparing and benefiting from the bounty of Nature for health and medicine.
Purpose ...
This project is being purposely designed, planted and built to facilitate these ideas and we are also looking forward to establishing wellness clinics to help build true natural health empowerment for our students and our local community.
Facilities ...
We now have facilities ready for the new year to enable us to return to teaching the essential aspect of our courses in person. Soon we will be continuing to build teaching preparation, processing and clinic facilities that will make us a leading European School in this area.
Regeneration ...
We are seeing before our eyes that this is regeneration at the most needed level, the human relationship with its true nature and the nature beings all around us.
This is definitely the most exciting project we have been involved in, it gives me optimism and hope for our future in the Community of Life.
Propagation ...
We have opened a branch in Exmoor, UK, this year led by Jane Wallwork who has worked with us for nearly 10 years.
We are also working with valued colleagues to enable two more branches to open in October 2021- one further north in the UK and another in the south-west of Ireland.
This is to meet the unprecedented demand we are experiencing as more and more people are wishing to learn about nature's medicine and how to keep themselves, their communities and the ecosystems well in these times.